Web Design Company In Mumbai
Web design isn't just about creating visually appealing websites; it's about crafting digital experiences that captivate users and drive business success. In the bustling city of Mumbai, one name stands out in the realm of web design: NSMedia.
Impact on User Experience
In an era where user experience can make or break a business, web design plays a pivotal role. NSMedia understands the significance of creating interfaces that not only look good but also provide seamless and enjoyable experiences for visitors.
Importance for Online Presence
A website is often the first point of contact between a business and its audience. NSMedia recognizes the power of a well-designed website in establishing a strong online presence and leaving a lasting impression.
Key Features of NSMedia's Web Design Services
1. Responsive Design
NSMedia specializes in creating responsive designs that adapt to various devices, ensuring a consistent and enjoyable experience for users, regardless of the platform they use.
2. User-Friendly Interfaces
Understanding the need for intuitive interfaces, NSMedia prioritizes user-friendliness in its designs, making navigation easy and enjoyable for visitors.
3. Customization Options
Recognizing that every business is unique, NSMedia offers customizable design options, allowing clients to tailor their websites to align with their brand identity and goals.
NSMedia's Strategies for SEO-Friendly Designs
Through a combination of strategic keyword placement, clean code, and content optimization, NSMedia ensures that its web designs are not just visually appealing but also search engine-friendly.
Navigating a website should be a seamless and intuitive experience. NSMedia places a strong emphasis on user-friendly navigation, understanding that a confusing layout can drive visitors away. Their designs prioritize easy navigation, keeping users engaged, and encouraging exploration.
Importance of a Professional Website
A professionally designed website goes beyond aesthetics; it's a reflection of a brand's credibility and professionalism. NSMedia's designs go beyond the surface, delving into the core of each business to create a digital representation that resonates with the target audience.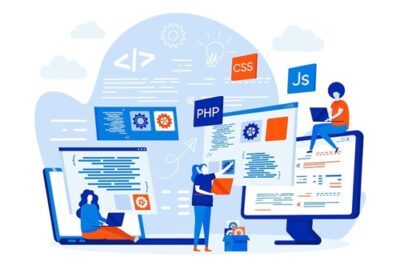 NSMedia prides itself on its client-centric approach. The collaboration with clients is not just transactional but a partnership. Feedback from clients is valued and incorporated into the design process, ensuring that the final product aligns perfectly with their vision and goals.
In the ever-evolving digital landscape, NSMedia emerges as a beacon of innovation and excellence in web design. From understanding the nuances of UX to embracing the latest trends, NSMedia is not just a web design company; it's a partner in shaping digital success. Consider NSMedia for your web design needs and embark on a journey of digital transformation.
Frequently asked questions
How long does it take for NSMedia to complete a web design project?
NSMedia tailors timelines based on the complexity of each project. A detailed discussion with the client helps set realistic expectations.
Can NSMedia redesign an existing website?
Absolutely. NSMedia specializes in both creating new websites and giving existing ones a fresh, modern look.
How does NSMedia incorporate SEO into web design?
NSMedia integrates SEO best practices from the initial stages of design, ensuring that websites are not only visually appealing but also optimized for search engines to improve visibility.
Your inquiry is our priority.
Web Design Company In Mumbai Web Design Company In Mumbai Web Design Company In Mumbai Web Design Company In Mumbai Web Design Company In Mumbai Web Design Company In Mumbai Web Design Company In Mumbai Web Design Company In Mumbai Web Design Company In Mumbai Web Design Company In Mumbai Web Design Company In Mumbai Web Design Company In Mumbai Web Design Company In Mumbai
Web Design Company In Mumbai
Web Design Company In Mumbai