Mobile Application Development Company In Mumbai
Mobile applications have become an integral part of our daily lives, transforming the way we interact with technology. In the bustling city of Mumbai, where innovation meets opportunity, choosing the right mobile application development company is crucial for success.
Why Mumbai for mobile app development?
Mumbai has emerged as a thriving tech hub, attracting top talent and fostering a competitive market for mobile app development. The city's skilled workforce, coupled with its dynamic business environment, makes it an ideal location for companies looking to turn their app ideas into reality.
Key Services Offered by NSMedia
NSMedia provides a comprehensive range of services, from app design and development to specialized expertise in user interface (UI) and user experience (UX). The company goes beyond the development phase, offering maintenance and support services to ensure seamless functionality.
Customized Solutions for Diverse Industries
NSMedia caters to a variety of industries, including healthcare, e-commerce, education, and finance. The company's ability to tailor solutions to the unique needs of each sector sets it apart, making it a versatile choice for businesses across different domains.
The Development Process at NSMedia
NSMedia follows a meticulous development process, starting with an initial consultation to refine the client's ideas. The subsequent stages include prototyping, design, development, testing, and deployment, with ongoing support to address any issues that may arise post-launch.
Ensuring Security in Mobile App Development
Security is a top priority at NSMedia. The company employs secure coding practices and conducts regular security audits to safeguard its clients' applications. This commitment to security ensures that users can trust the apps developed by NSMedia with their sensitive data.
The true measure of a mobile app development company's success lies in the satisfaction of its clients. NSMedia proudly showcases testimonials from satisfied clients and provides in-depth case studies highlighting the successful outcomes of various projects.
Future Prospects and Innovations
Looking ahead, NSMedia envisions a future filled with innovation and continued growth. The company stays abreast of emerging technologies in mobile app development, positioning itself as a leader in the ever-evolving landscape.
Client-Centric Approach at NSMedia
NSMedia's client-centric approach involves tailoring solutions based on individual client needs. Continuous collaboration and feedback ensure that the final product aligns with the client's vision and goals.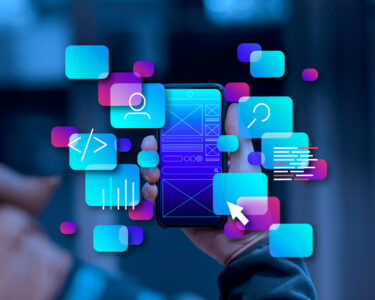 Tips for Choosing the Right Mobile App Development Company
For businesses exploring mobile app development, it's crucial to conduct thorough research and consider factors such as reviews, portfolio assessment, and communication channels. NSMedia stands out as a reliable choice, with a track record of delivering successful projects across various industries.
In the vibrant city of Mumbai, NSMedia stands as a beacon of innovation in mobile application development. With a commitment to quality, a client-centric approach, and a forward-thinking mindset, NSMedia continues to unlock new possibilities in the digital realm. For businesses seeking to harness the power of mobile apps, partnering with NSMedia is a strategic choice.
Frequently asked questions
What industries does NSMedia specialize in?
NSMedia specializes in healthcare, e-commerce, education, and finance, offering tailored solutions for diverse industries.
How long does it take to develop a mobile app with NSMedia?
The timeline for app development varies based on the complexity of the project. NSMedia works closely with clients to provide realistic timelines.
What security measures does NSMedia employ in app development?
NSMedia prioritizes security, employing secure coding practices and conducting regular security audits to safeguard client applications.
Your inquiry is our priority.
Mobile Application Development Company In Mumbai Mobile Application Development Company In Mumbai Mobile Application Development Company In Mumbai Mobile Application Development Company In Mumbai Mobile Application Development Company In Mumbai Mobile Application Development Company In Mumbai Mobile Application Development Company In Mumbai Mobile Application Development Company In Mumbai Mobile Application Development Company In Mumbai Mobile Application Development Company In Mumbai Mobile Application Development Company In Mumbai Mobile Application Development Company In Mumbai Mobile Application Development Company In Mumbai Mobile Application Development Company In Mumbai Mobile Application Development Company In Mumbai Mobile Application Development Company In Mumbai Mobile Application Development Company In Mumbai Mobile Application Development Company In Mumbai Mobile Application Development Company In Mumbai Mobile Application Development Company In Mumbai
Mobile Application Development Company In Mumbai
Mobile Application Development Company In Mumbai