Best Mobile App Development Company In Mumbai
Mobile app development has become a crucial aspect of business growth in the digital age. As businesses strive to reach a wider audience and enhance user experiences, choosing the right mobile app development company is paramount. In this article, we'll explore the criteria for selecting the best company and shed light on Nsmedia, a leading player in Mumbai that stands out for its innovative approach and client-centric development.
The importance of Choosing the Best Company
The success of a mobile app is highly dependent on the development company behind it. Selecting the best mobile app development company ensures a seamless development process, high-quality output, and long-term success for the app.
Expertise in App Development
The first criterion in choosing a development company is their expertise. A reputable company should have a team of skilled developers with in-depth knowledge of various programming languages and frameworks.
Portfolio and Track Record
A strong portfolio and a proven track record are indicative of a company's capabilities. Examining past projects helps assess the quality of their work and the diversity of applications they have developed.
Client Reviews and Testimonials
Client reviews provide valuable insights into the company's communication, reliability, and overall satisfaction. Positive testimonials from previous clients are a good indicator of the company's commitment to customer success.
Nsmedia has established itself as a prominent player in the mobile app development scene in Mumbai. With years of experience, they have successfully delivered a myriad of cutting-edge applications across diverse industries.
Nsmedia offers a range of services, including custom app development, UI/UX design, and app maintenance. Their comprehensive approach ensures that clients receive end-to-end solutions tailored to their unique needs.
Success Stories and Case Studies
Several success stories and case studies highlight Nsmedia's ability to turn innovative ideas into successful mobile applications. From startups to established enterprises, Nsmedia has played a pivotal role in their digital transformation.
Advantages of Choosing Nsmedia
A. Customized Solutions
Nsmedia takes a tailored approach to each project, ensuring that the final product aligns perfectly with the client's vision and business objectives.
B. Timely Delivery
Meeting deadlines is a priority for Nsmedia, ensuring that clients receive their applications on time and within the agreed-upon timeframe.
C. Competitive Pricing
Nsmedia offers competitive pricing without compromising on quality, making their services accessible to a diverse range of businesses.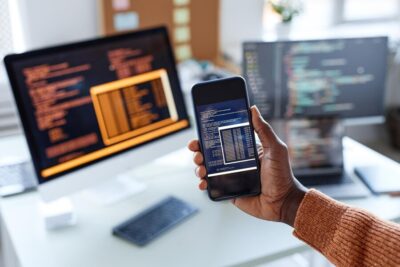 The relationships forged with clients extend beyond project completion. Nsmedia values long-term partnerships, offering ongoing support, updates, and innovative solutions to ensure sustained success for their clients.
In conclusion, choosing the best mobile app development company is a critical decision that can profoundly impact the success of your app. Nsmedia, based in Mumbai, emerges as a standout choice, blending innovation, cutting-edge technology, and a client-centric approach. Their commitment to delivering customized solutions, timely delivery, and competitive pricing positions them as a reliable partner for businesses seeking excellence in mobile app development.
Frequently asked questions
How does NSMedia ensure the security of mobile applications?
NSMedia prioritizes security measures, employing robust encryption and rigorous testing to ensure the confidentiality and integrity of mobile applications.
Can Nsmedia handle both iOS and Android app development?
Absolutely! NSMedia has expertise in both iOS and Android platforms, offering comprehensive solutions for a diverse range of mobile devices.
What industries does Nsmedia specialize in for app development?
NSMedia has experience across various industries, including healthcare, finance, e-commerce, and more, tailoring their services to meet the unique needs of each sector.
Your inquiry is our priority.
Best Mobile App Development Company In Mumbai
Best Mobile App Development Company In Mumbai
Best Mobile App Development Company In Mumbai Best Mobile App Development Company In Mumbai Best Mobile App Development Company In Mumbai Best Mobile App Development Company In Mumbai Best Mobile App Development Company In Mumbai Best Mobile App Development Company In Mumbai Best Mobile App Development Company In Mumbai Best Mobile App Development Company In Mumbai Best Mobile App Development Company In Mumbai Best Mobile App Development Company In Mumbai Best Mobile App Development Company In Mumbai Best Mobile App Development Company In Mumbai Best Mobile App Development Company In Mumbai Best Mobile App Development Company In Mumbai Best Mobile App Development Company In Mumbai Best Mobile App Development Company In Mumbai Best Mobile App Development Company In Mumbai Best Mobile App Development Company In Mumbai